I had been dreaming about going to Tokyo DisneySea, one of the great steampunk Mecca's of the world, for absolute YEARS. And on Thursday, September 7, that dream finally came true!
Getting to Tokyo Disneyland and Tokyo DisneySea is actually not that hard. You can take a bus from Shinjuku station (near Lumine, so very easy to find) or you can first take the rapid train on the Chuo line to Tokyo station and then switch to the line that takes you to Maihama station, where you take a monorail. It sounds tedious, but in reality it's not hard to do.
But that said, the park opens at 8 and it does take you at the very least an hour to get there. So we got up at 5.30 to be on our first train at 6.30 just so we could narrowly avoid rush hour (which starts around 7am).
Initially we couldn't sit down, and I was milling over asking someone to get up from a priority seat, but then thankfully two seats opened up, so problem solved! Huzzah!
Random photo on the JR.
If you are wondering why there are random Star Wars plasters/bandages on my arm, it's because there is a rule against visible tattoos in Tokyo Disney. I have heard stories of people being fine with their tattoos not being covered, but I have also heard stories of people getting in trouble over it, so I just figured that sticking these over them would be the easiest solution. That said, the Hansaplast Star Wars plasters look really cool, but they are utterly shit. They are plasticy horror and I would absolutely not recommend them. Next time, I'm using regular boring ones, it'll be way more comfortable.
It wasn't hard to find the right platform in Tokyo station either, because even though these big stations are a maze, the lines and corresponding platforms all have really good signage.
Sometimes you have to walk quite a while to get where you need to be, but unlike the correct exit, it's pretty darn easy to find the right platform. Whilst JR trains on the big lines such as Chuo and Yamanote go every few minutes, the much quieter Keiyo and Musashino lines run around every 15 minutes. Even though they have Maihama, aka Tokyo Disney, as their stop.
We ended up taking the Musashino line, as that was the first train arriving. It was a bit of a shock, being used to the super modern Chuo and Yamanote line trains, with their handy screens and stop announcements.
This one did have an old school poster with the stops though and some very kind girls that were also going to Tokyo Disney moved aside so I could see it better (it was above the doors) and one even signalled on her hands how many stops it still was. Super sweet of her :).
Bert was following our progress on my phone because I had taken a handy photo on the platform, more because I wanted the photo than it actually being useful, of course.
At Maihama, we went straight for the Tokyo Disney monorail station.
I was really excited about taking a monorail, because I had never been on one. We did need a little help from a kind CM in operating the machine, but once she had showed us how it worked for one ticket, it was easy to use.
It did surprise me how badly most CMs spoke English, but at least they could get by.
The monorail that took us to Tokyo Disney Sea was themed for the Turtle Talk ride, so we couldn't look outside from where we were sitting. As that simply would not do, we moved to the front car to look out through the big frontal window. Problem solved!
There was a MASSIVE queue in front of the TDS gates when we got there, and we were there about half an hour, 20 minutes before park opening. There was very little indication about what was going on, so I asked at the gates at 8am (opening time according to the website) and she said we had to move to that particular queue.
Turns out, we would have been fine in the queue we were in. At 8am, they open the doors for annual pass holders and the ticket gates for those that don't have tickets yet. Everyone (bar the pass holders) is in the same queue.
People that already have tickets move to the entrance for bag check (a very no bullshit bag check by very friendly staff I add!), those that need to buy a ticket, buy a ticket and then go back into the queue to go into the park. Crazy if you ask me.
In any case, the line we had moved to was a little faster than the original one, and didn't have ticket stalls attached to it. Which was possibly why it was faster. I just sat on the ground for most of the wait, because feinting BEFORE getting into the park would simply NOT have done. There weren't a lot of people sitting, but the moment I sat down, people were telling each other someone was sitting down nearby (I saw them point) and they were all very careful not to thread on me. That was seriously awesome, because in DLP, I'd better have moved FAST in a situation like that if the queue started moving. But here, no big deal at all, people just patiently wait for people sitting down to get up (there were a few others sitting down too) and that's that.
When we finally got inside, we wandered around the giant globe fountain for a bit, because it was cool, and then wandered to the gateway to the park proper.
Bert pointed out that there was a pretty giant store (I did forget most store names, I'm sorry) and that I might as well buy the things I wanted asap.
So I did, and bought pretty much everything on my list and a Gelatoni face towel. Which I have fuck all need for but damn is it SOFT and CUTE. I really shouldn't have, but hey.
You might find it strange that I had a list, but Tokyo Disney has a very comprehensive website, including a section with all their merchandise.
So it was easy to check things beforehand and decide what I wanted to buy. I must admit that it did help not to go completely bananas, because I knew what food would cost me, and what budget I needed for merchandise etc.
The CM at the register actually spoke really good English, and she put all my small bits and bobs in a sturdy plastic bag (with spare bags, they always give you spare bags, in case you buy things as a present so you can just put them in a pretty bag) and that bag went into my, now tag free thanks to said kind CM, Gelatoni totebag.
Yes, I already owned the previous design. But I use big totes all the time, so getting yet another one is money well spent.
It was the day before the Halloween season officially started, which meant that all the Halloween decorations, merch and foods were out in full force.
Without the madness that came with it, because most people were waiting for the actual start.
Basically, it was a really nice quiet day. If only the weather had been more cooperative...
Of course I wanted to see Mysterious Island first, so we made our way to that, only stopping to get my picture taken with these guys, because they had just come out and there were hardly any people around them.
Roaming characters in Tokyo is the same business as roaming characters in Disneyland Paris.
People tend to go a little nuts. But when there's few people near the characters, it's still perfectly civil because it's ridiculous to go bananas when there's only two others waiting for their turn. Which was the case.
Picture taking along the way also happened...
And then there was Mysterious Island.
Normally I get an outfit shot in front of Nautilus (a Disneyland Paris visit tradition), but as there was no space for that in TDS, we took a selfie with Nautilus in the background instead.
I frigging adored Mysterious Island. It came straight from the pages of Jules Verne's Mysterious Island and Journey to the Center of the Earth!
I did consider going on Journey, despite the warnings several friends had given me not to, but then I saw just how steep the dive was (it's in part outside) and I immediately scratched that crazy plan.
Instead, I took pictures of Nautilus (many, many pictures of Nautilus) and went into 20,000 Leagues with Bert.
OMG I LOVE THAT RIDE, it was so amazing!
Basically, you're in a Nautilus exploration pod and you're doing a tour of the island underwater floor.
It was so, so well done and absolutely stunning.
I wouldn't recommend it to those that suffer from claustrophobia though. Bert and I don't, so we just thought it was the bees knees, but I can imagine how suffocating it must be if you hate dark and enclosed spaces.
Vulcania was closed 'till later in the day, but I looked at the menu and decided that come hell or high water, I was going to have the fried chicken. Without the sauce, the sauce was a possible recipe for allergy induced disaster.
But sadly, it wasn't open yet (and not time for chicken anyway at 9AM-ish in the morning).
Tokyo Disney Sea is full of affordable and delicious snacks, and I wish that for once I didn't have such a tiny appetite because I wanted to try much more than I could possibly eat.
More Mysterious Island photos, for it is full of amazing steampunk wonders!
After Mysterious Island, we ended up taking a turn to Port Discovery, which is the other steampunk area.
We took some photos and then we boarded the electric railway to the American Waterfront.
I also decided it was about time to swallow a Touristil, because I was dead set on going on a paddle boat, and without one I would have gotten seasick in a matter of moments (yeah I get super seasick, but with Touristil, I don't at all so Touristil is my friend!).
American Waterfront is really cool.
It felt like a kind of port side Main Street USA to me.
And we spent some time simply wandering and taking photos. And completely MISSING McDucks. Because we are blind, clearly.
We did consider going into Toy Story Mania, because at that time the queue was only half an hour (it was the day before the start of the Halloween season, which is notoriously one of the slowest days in the park year) but in the end, we just wanted to see things because we only had one day.
When we walked by the Tower of Terror gift shop, Bert pointed it out to me and asked if I wanted to go in.
Knowing I wanted to buy a Shiriki Utundu keychain and that I had forgotten about it. He figured I'd remember if he asked, which of course I didn't. So we didn't get in.
Having gotten up at 5.30am, we were getting quite hungry, so we went in the search for food. And ended up going to Cape Cod Cook-off.
Not because we were particularly in the mood for burgers, but because it wasn't crowded at all and it had a show. Well, several on rotation.
They give you a ticket and a time you need to vacate by in order to keep the crowds moving. That may sound a little ridiculous, but we had close to an hour (you get the ticket AFTER you've ordered your meal and have it in your hands, btw) to eat and see the shows, which was more than reasonable.
The shows were in Japanese, so we didn't catch most of them, but nevertheless they were amusing to see. Bert agreed with me that they could have done a better job on the Gelatoni suit (I feel like he looks like a demented mouse instead of a cat in that, and some of the merch).
So yeah, we had burgers, and I also had chicken nuggets. They were a lot nicer than the burgers and nuggest you get in Disneyland Paris and a damn sight cheaper too (story of the entire day: everything is nicer and cheaper in TDS compared to DLP). And saw a show.
And Bert got me this adorable Duffy cup sleeve holder :).
Back outside I wanted to photograph the Halloween decorations. We knew it was going to rain that day, and we had luck with the weather so far (it was super warm too) but the sky was a clear indicator that the luck was about to change, so picture taking had to happen.
Outfit of the day:
I know you're supposed to be super fashionable when you go to a Disney park, but I opted for comfort instead. So I wore my very favourite dress, which is covered in little keys.
Glasses: Theo
Dress: H&M
Sandals: TEVA
Backpack: Fjällräven (Kanken classic)
Bag: H&M
Totebag: Tokyo Disney Sea
Bert asked if I wanted to join the queue for Duffy, which I didn't.
Sure ok, it's in Duffy's home environment, but I have met Duffy before, and I didn't feel like wasting an hour just to get my photo taken with a character.
I had just photographed my last Jack o' Lantern when it started to rain, so we went into Aunt Peg's and what did I spot? A Tower of Terror pin featuring, you guessed it, Shiriki Utundu. So I was all: WE GOTTA GO BACK.
And then, of course, we took a wrong turn and ended up in Lost River Delta. But I did see these adorable ducklings along the way!
We got a fast pass for Indiana Jones and the Temple of the Crystal Skull, and figured that if it was still good if we came back from our hunt for cursed idol keychains, we'd go on it.
We took the paddle steamer (hurrah paddle steamer) to Mediterranean Harbor, which, in hind sight, was a bad idea because it was a MASSIVE detour. But we did get to take the paddle steamer!
Which went right by Nautilus. Much, much better than getting shaken up in Crystal Skull in my opinion!
All the bag charms I got at Tokyo Disney Sea. The seagull is TippyBlue, one of Duffy's friends, he's in the shows at Cape Cod Cook-Off.
But yeah, we got to the store, I bought Mr Utundu, so he can be creepy on a backpack. Or on my wall. Because when they're not on a backpack or a bag, I keep my TDS bag charms on my wall.
We saw parts of American Waterfront we hadn't before, including some amazing Halloween decorations.
I snapped some photos from the side of this, because people were queuing to take photos in front of it. Yes, you read that right, they were in an improvised orderly queue, no cast member in sight, to take photos with the décor.
A stark contrast with Disneyland Paris, where they need cast members to make sure "guests" don't vandalise statues and decor(ations)!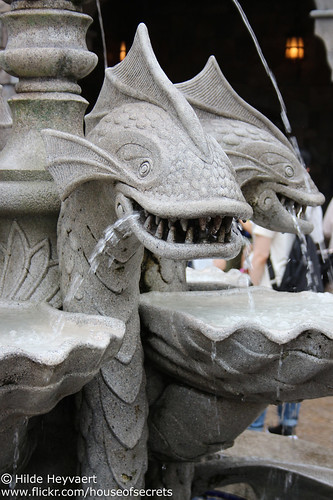 We decided we wanted to see the rest of TDS, so we started to walk again, first stopping by the Fortress of Exploration in Mediterranean Harbor.
We spend AGES in there, because it is just so damn cool!
If you love clockpunk and Da Vinci style science (we sure do) that place is a dream! Clearly, I took a ton of photos.
Obviously.
I had to.
As you just noticed.
After that, we went on to Arabian Coast, in the rain, pesky rain.
Where I insisted on eating a Chandu tail.
Bert was less than convinced, but being the fabulous husband that he is, he gave in and followed me to Sultan's Oasis.
He said he didn't much like the Chandu tail at all, but I loved it.
Of course, I was still too full to eat all of it, so I carefully wrapped up the half I had left and took it with me.
Bert was initially worried it would make me sick, but frankly, mashed chicken with cream, kurkuma and paprika spices is not something that will upset my stomach. Neither will the sweet corn thrown in there for good measure.
We noticed that the Sinbad ride was only 5 minutes, despite it being the afternoon, so of course we went right on! We didn't really manage to get most of it, because it had been FOREVER (since we were kids) that we heard about that particular tale (it's a children's story over here) and it was all in Japanese. But it was super well made so that was all perfectly fine.
And Chandu is super cute. But not cute enough for me to want to buy any Chandu merchandise.
Taking a couple more photos, we went over to Mermaid Lagoon.
Most of that is actually indoors, and geared towards kids, but it's still a cool area to at least walk through. I can imagine that fans of the Little Mermaid go super bananas in here.
Because I couldn't ride any of the real rollercoasters, and the kiddie coaster was advertised as 20 minutes, we joined the queue. In the end, it was more like a 10 minute queue. Which was good, because it's a SUPER SHORT ride, regardless, a very fun one.
We ended up in Mediterranean Harbour again, where Bert went to do his souvenir shopping and then decided that he was peckish (even after the "I am not hungry but I am eating the Chandu tail because you are buying")
and we settled down in Café Portofino. I was refusing to eat anything, because I still wanted to eat both that chicken at Vulcania AND Little Green Men ice cream mochi. Even though I had no clue where Mamma Biscotti's Bakery was (other than somewhere in Mediterranean Harbor).
And I saw a hawkmoth!
During one of the sunny spots of the afternoon (it was super warm even when it rained) one of these beauties was flying around, nomming some Mediterranean Harbor flowers. (You have to click the link because flickr is lousy for video sharing). We couldn't properly see what it was and it wasn't 'till I managed to google it at home that I knew it was a moth, and not a hummingbird (we just couldn't tell on the spot). So awesome.
But yeah, we went to Vulcania after, and I had GLORIOUS CHICKEN (so good, I am still lamenting the lack of Vulcania chicken options in my life weeks after that meal).
At first they were frowning at me to hold back the sauce, but when I said I had allergies they were all "oh no, no sauce, totally fine!".
But you know, they didn't make a huge fuss over it like generally happens in DLP, they were just wondering why anyone would pass up on their sauce, and were totally understanding when they found out the reason.
It was still foul weather, raining off and on, and we were surprised there were still quite a few people sitting down in the rain, waiting for The Villain's World show to start.
Because it was only 5 minutes from that time, and some people upped and left in a really good spot, Bert and I snuck right into that and decided to watch. They had shortened the show due to the shit weather, and none of the characters actually came on land like usual (due to the area being slippery AF) but it was still AMAZING. Totally next level, with Cirque du Soleil like stunts with water fueled jetpacks ON the damn lake. And jetskis and boats.
I mean... how even!
If I had known it was this amazing, I would have watched an earlier performance when the weather was still nice! But yeah, this is why all my footage from it is so crap. But it was still hella cool to watch.
We wandered around some more, not wanting to go back to the hotel, but at the same time the weather was getting increasingly worse and we had done everything we wanted to.
So it was time to take out the map and find the bakery so I could eat, you guessed it, little green men ice cream mochi.
I bought the souvenir box too, because it was damned cheap.
And a nice cheesy bread snack for Bert.
As it turns out, it was a good thing I bought the souvenir box, because the sesame cheese bread fit right in there after I had devoured the tasty, delicious aliens. They were soooooo good, omg.
The monorail back was a Halloween one, much to my pleasure!
But yeah, we decided to have a look at Ikispiari, because I wanted to look at Halloween merch from the other park, and I had heard that you could get it there.
The thing was, I thought it would be something like Disney Village, which is essentially a street.
But it really wasn't.
t was a shopping village in itself. Not just a street but an entire enormous complex, with a ton of shops that have nothing to do with Disney full stop, restaurants and a movie theatre.
Because Bert wanted to take the train back before nightfall because he worried about reading the stops, we decided to just call it a day. Meaning I didn't get to visit Bon Voyage and shop Tokyo Disneyland merch, but that's ok.
Of course, the JR train to Tokyo station was a modern one with screens and announcements, so that was very typical.
We got totally stuck in the tail end of rush hour, which was also a little suck, but not too bad because it was only for a couple of stops. Once in Shinjuku station we, of course, couldn't find the right exit, but we passed by a konbini of a chain we hadn't seen before: NewDays.
I just got some water there, but Bert got a huge box of sushi that he paid with his suica card. He had it in our hotel room, and according to him it was delicious. I didn't really trust it, because I worried too much about allergies. Plus I still had half a Chandu tail, which tasted as nice cold as it did warm. So yeah, that was our day at Tokyo DisneySea.
We could have stayed a lot longer as it was open 'till 10pm, but after not having slept the best the last couple of nights due to jetlag and such, leaving when we did was probably a good idea.
If we had stayed out super late, we might not have been worth much on our final day and that would have been too bad, really.
But yeah, we absolutely LOVED Tokyo DisneySea, and I really hope I'll be able to go back there some day!
Previous day posts:
Day 1 (traveling to Tokyo and Shinjuku)
Day 2 (Shinjuku)
Day 3 (Shibuya – Harajuku - Shibuya)
Day 4 (Harajuku – Akihabara - Shinjuku)
All our Tokyo DisneySea photos.
All our Tokyo photos.
Disney haul, including Disney stuff from all over Tokyo.
For more details of what I bought in TDS, check the Tokyo haul post!
----
Find me online:
twitter - instagram - website